SESSION 2 (9-15yrs) JW KIDS GLOW DANCE
$

10.00
Sold out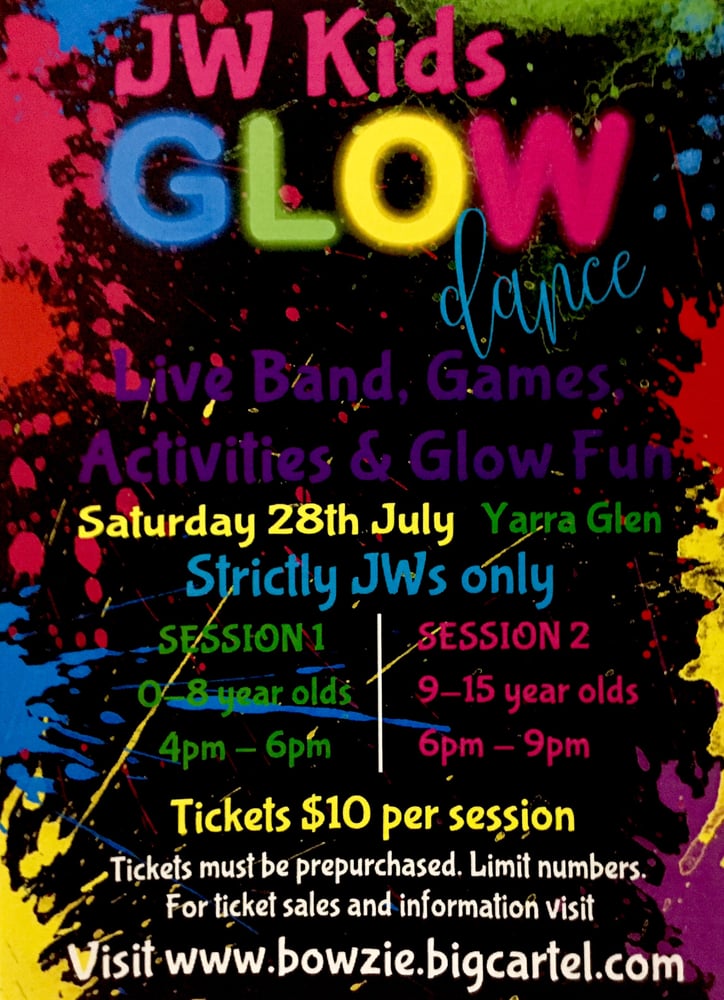 PLEASE NOTE SESSION 2 HAS COMPLETELY SOLD OUT. Limited spot for Session 1 still available.
Please join us for a JW KIDS GLOW PARTY
WHEN: Saturday 28th July 2018.
WHERE: Yarra Glen VIC (exact location will be given upon receipt of ticket purchase)
Strictly JWs only.
SESSION 1:
0-8 year olds
4pm - 6pm
SESSION 2:
9-15 year olds
6pm - 9pm
All tickets must be pre purchased through this website. No door sales available. Entry will not be permitted unless you have a pre purchased ticket.
Tickets include child's entry, snack pack, drink, glow stick, sausage in bread.
This is a GLOW theme. So we will provide glow sticks, glow paints, lighting, and of course there will be an all JW live band and games.
At least one parent or guarding is required to stay onsite to supervise their children during the session they are purchasing tickets for. Parents are not required to pay an entry fee for themselves. There will be a tea and coffee room provided for the parents to mingle but of course you are welcome to join in with the dancing and games too.
Each session will play age appropriate songs and games. However, the ages are just a guideline. If siblings prefer to stay together then that is fine too.
Ticket prices cover the cost of hall hire, catering, decorations, equipment hire, band etc. PLEASE NOTE THIS IS NOT A FUNDRAISER. We are not looking to make a profit out of this so if any profit is made then we will just donate it to the society or hire extra equipment/games for the children.
Please feel free to spread the word. We would love JW Families from all over to come and enjoy this Dance. Spots are strictly limited so please purchase tickets asap so you don't miss out.
Please read the RULES section on this website and feel free to contact Laura on 0411879444 or bowzieties@gmail.com if you have any questions.